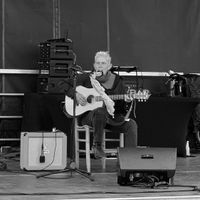 Picture of SP Sept 18th
in Burlington Vermont
at Waterfront Park
for Pride event


 
August 24th Wednesday 7:30pm (est)

September
is Pride month in Burlington Vermont.
Steph's first "live in person" show since the start of the pandemic 3 years ago will be September 18th Sunday 
at Waterfront Park, part of the Pride celebration. SPE at 3pm give'er take
Matthew Nerbak, Steph's long time friend and original drummer will  perform in the pride line up.  You won't want to miss this dynamic magical duo!

Steph was there to help plan & launch the first Pride Parade & Festival in Burlington Vermont USA, 1983!

Steph is part of the pride 1983 exhibition at Folk Life Museum, curated by Margaret Tamulonis! Check out "the larger than life" photo too:
https://www.vermontfolklifecenter.org/pride-portraits/steph-pappas

Steph also helped launch the first Women's Center in Burlington Vermont. 
Steph: "I gave my work 3 week notice to take the nite off to play at the center, it  didn't go so well,  as time approached I was fired from my nite cook position, simply cause it's not allowed to take a weekend nite off to  play a show at the Women's Center."

Shortly sometime after that Steph started up and ran a Women's Supper Night at Last Elm Cafe on North Winooski Ave in Burlington.

Also at  Last Elm she mentored girl musicians, part of a program put together with a couple other local woman musicians.

SPE has reached #1 on various college & AAA radio stations!
And just to name a  few:

The song Energy went #1 on 99.9 The Buzz, here's a vid edited out from a different radio show, same song Energy, with Tim Lewis at WBKM live from Robot Dog Studio 
https://youtu.be/dKtlkZCMu_U

Got The Feeling To Take To The Highway
went #1 for 3 consecutive years on WRUV broadcasting out of UVM Burlington Vermont USA.
 
Double Dare Ya on rotation at VPR with Robert Resnik, All The Traditions